Workshop Details
Sid Meier's Game Design Boot Camp is a two-week intensive residential camp where a limited number of students will receive instruction on game design, develop their own games, and get hands-on advice from game design experts.
Target Audience
Undergraduate computer science majors interested in game design and development careers, specifically those between their junior and senior years or recent graduates.
Applicants should have extensive experience in software development. We expect students will have developed games in the past, either in classes or on their own.
The workshop will not teach programming or game development techniques, but will focus on game design.
Overall Organization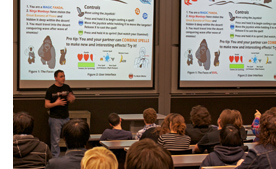 Students will individually go through all of the phases of game design and development resulting in a running game at the end of the two weeks.
There will be 1-2 hours of lecture per day followed by design activities, with extensive time for game development and implementation including critiques and advice from game experts.
Students should expect to work >10 hours/day on projects and activities.
Facilities
All instruction will take place in the Computer Science and Engineering building on the University of Michigan's North Campus.
Students will have access to workstations for development, or can bring their own machines.
Out of town students will be housed on campus in a University of Michigan dorm.
Cost
The two-week cost for the workshop is $500, which includes housing in a University of Michigan dormitory and meals. For students not staying in the dorm, the cost will be $200. A limited number of scholarships are available for students that have demonstrable need.
Workshop Sponsors