We Forge Game Designers (Who Forge Great Games!)
Do you love computers and game design? We do, too! That's why we're inviting undergraduate computer science majors who are interested in game design careers to participate in an exclusive, two-week residential camp at the University of Michigan that's led by the legendary game developer Sid Meier.
At Sid Meier's Game Development Boot Camp, a limited number of junior/senior students or recent graduates will receive intensive instruction on game design, develop their own games, and get hands-on advice from game design experts. Sound good? Read on!
What to Expect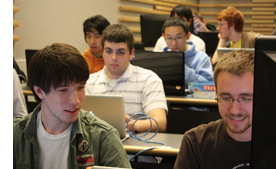 Applicants should have extensive experience in software development. We expect students will have developed games in the past, either in classes or on their own. We will not be teaching programming or game development techniques, but will focus on game design.
Students will individually go through all of the phases of game design and development, resulting in a running game at the end of the two weeks. There will be 1-2 hours of lecture per day, followed by design activities, with extensive time for game development and implementation including critiques and advice from game experts. Students should expect to work >10 hours/day on projects and activities. Visit the Workshop Details page for full info.
Workshop Sponsors